Module 1 Introduction to the Library
This module provides an introduction to the Palo Alto College Library and Library Services
The Palo Alto College Library is located on the second floor of the Ozuna Building, Many of our resources are also available online through our Library Homepage. http://www.alamo.edu/pac/library/
Library Regular Hours of Operation for Fall /Spring Semesters
Monday - Thursday 8am-9pm
Friday 8am-5pm, Saturday Closed, Sunday 1-9pm
Summer hoiurs vary. Always check the library homepage for any
exceptions to the regular schedule.
Phone:
Circulation Desk: 210-486-3555
Reference Desk: 210-486-3557
Administration: 210-486-3901
Using the Library:
Anyone is welcome to visit and use the Palo Alto College Library. To borrow materials you must have your current Palo Alto (or other Alamo Colleges) ID card.
Students from other than Alamo Colleges may borrow materials with a TexShare Card available from their local institution. http://www.alamo.edu/pac/library/texshare/
Community users may borrow materials with a TexShare Card available from the San Antonio Public Library.http://www.alamo.edu/pac/library/texshare/
Need help? Contact us!
If you need help locating or using Library materials and cannot come to the library you may contact a Librarian by:
Telephone - call the reference desk at (210) 486-3557 or 1-800-755-0095. Calls will be answered during scheduled hours of operation. You may leave a message in voice mail for a return call.
E-mail - click on the "Contact a PAC Lilbrarian Email a question" link on the Library homepage. http://www.alamo.edu/pac/library/ .The email will be sent to a reference librarian and you will be answered in 24 hours.
Chat - on the Library homepage.http://www.alamo.edu/pac/library/ enter your name in the Name box or remain anonomous then click Start Chat. Your message will go directly to the Reference Desk. You should receive a reply within 15 minutes during scheduled hours of operation.
Follow us on Facebook
Follow us on Twitter
Another option is to visit us at Library a la Carte! See the Bonus Box →
Activity: Using one of the methods listed above, contact the Library.
Additional Information about the Palo Alto College Library:
Study Areas - A variety of options are available for study areas; open study areas, private individual study areas and private group study areas. The Library has WiFi and study areas are equipped with both data and electrical outlets.
Laptop Computers - Laptop computers for in library use are available for check out at the Circulation Desk for in Library use. You will need your Alamo Colleges (PAC) student ID card and must complete a borrowers agreement.
InterLibrary Loan - Interlibrary loan is available to obtain books and articles that are not available at the Palo Alto College Library in print or electronic format. This service is free.
Reserves - Your instructors may place materials "On Reserve" in the Library. These materials may include books, films, articles, test review, maps, etc. to supplement your course materials. They are located at the Circulation Desk. You will need your PAC ID card to check them out. Check out period varies according to the directions of the Instructor and may be anywhere from 2 hours to two weeks.
Electronic Resources - The library's Palomino Search tool offers access to a variety of e-books and e-videos. In addition, online databases on the library home page provides electonic access to journal, magazine, and newspaper articles as well as streaming videos. These e-resources are available on and off campus. Please note that off campus access is available to current PAC students, faculty, and staff.
Photocopy and Printing - A KIC scanning machine is available for scanning documents that can be printed, emailed, or saved as PDF document. Printing is available through the GoPrint System. You must set up an online deposit account or purchase a GoPrint Card. These resources can be accessed in the Copy Room adjacent to the library computer stations.
Government Documents - Palo Alto College Library is a Selective Government Documents Depository. http://www.gpo.gov/libraries/
The Palo Alto Library Collection, like most College and University Libraries, is organized using the Library of Congress Classification System(LCCS). This is different from the Dewey Decimal Classification System you may be accustomed to from your school and public libraries. It is not difficult to locate materials on the shelves. Here is a tutorial to help you:
How to read call numbers in an academic library
Libraries use classification systems to organize the books on the shelves. A classification system uses letters and/or numbers (call numbers) to arrange the books so that books on the same topic are together. This arrangement results in "serendipitous browsing:" you find one book in the catalog, go to the shelf, and, an even better book is sitting right next to it.
From the Online Catalog to the Shelf
Libraries in the United States generally use either the Library of Congress Classification System (LC) or the Dewey Decimal Classification System to organize their books. Most academic libraries use LC, and most public libraries and K-12 school libraries use Dewey.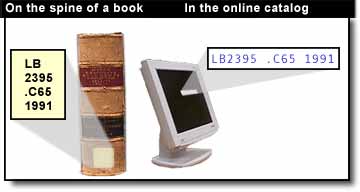 ---
Anatomy of a Library of Congress Call Number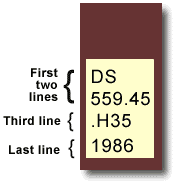 Book title: Uncensored War: The Media and Vietnam
Author: Daniel C. Hallin
Call Number: DS559.46 .H35 1986
The first two lines describe the subject of the book.
DS559.45 = Vietnamese Conflict
The third line often represents the author's last name.
H = Hallin
The last line represents the date of publication.
---
Tips for Finding Books on the Shelf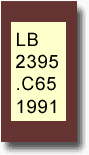 Read call numbers line by line.
LB
Read the first line in alphabetical order:
A, B, BF, C, D... L, LA, LB, LC, M, ML...
2395
Read the second line as a whole number:
1, 2, 3, 45, 100, 101, 1000, 2000, 2430...
.C65
The third line is a combination of a letter and numbers. Read the letter alphabetically. Read the number as a decimal, eg:
.C65 = .65 .C724 = .724
Some call numbers have more than one combination letter-number line.
1991
The last line is the year the book was published. Read in chronological order:
1985, 1991, 1992...
Here is a shelf of books with the call number order explained.

http://www.usg.edu/galileo/skills/unit03/libraries03_04.phtml
Activity: ok! Now that you understand the system, do the following exercise:
See if you can put the following call numbers in the correct order. (Use paper and pencil.) Correct answers are available!
For example:
a.
TX
349
.C74
b.
TX
349
.C449
c.
TX
349
.A123
Correct order: c b a
1.
a.
R
184.7
.N49

b.
R
185
.B52x

c.
R
169.1
.B59
1990

Correct order:_______________
2.
a.
TX
719
.M613
1977

b.
TX
719
.M613
1983

c.
TX
719
.W47

Correct order:_______________
3.
a.
E
185
.E2x
1982

b.
E
185
.T28

c.
E
185
.N58x

Correct order:_______________
4.
a.
R
146.61
.N49

b.
R
146.93
.B9

c.
R
146.5
.C196

Correct order:_______________
5.
a.
QA
719
.W47
1994

b.
QA
719
.L783
1996

c.
QA
719
.W5
1995

Correct order:_______________
6.
a.
PR
6084
.E832
K14

b.
PR
6084
.C44
T98

c.
PS
6083
.M41
N32

Correct order:_______________
7.
a.
QA
349
.L36
1984f

b.
QA
349
.M316
1961

c.
QA
349
.C74
1984

d.
QA
349
.E821
1973

e.
QA
349
.E983

f.
QA
349
.C448
1985

Correct order:______________________________________
8.
a.
R
241
.F5
B297

b.
R
241
.J18
1990

c.
R
2418
.J42
T14

d.
R
418
.P72
P47

e.
R
241
.F5
.B8

f.
R
241
.F2498
1994

Correct order:_______________________________________
Answers:
c a b second line numbers 161.1 < 184.7 < 185
a b c M before W
a c b E before N before T
c a b 146.5 < 146.61 < 146.93
b a c L before W; .47 < .5
b a c first line PR before PS; third line C before E
f c d e a b .C448 < .C74; .E821 < .E 983
f a e b d c whole numbers 241 < 418 < 2418; third line numbers.F2498 < .F5;
fourth line numbers .B297< .B8
Click below to complete the quiz for this module.
Library a la Carte !
Can't come to the library? The library comes to you!
Receive Instruction on how to use the Library Resources:
Research Assistance
Catalog and e-books
Databases
Return Materials
Order materials (Inter-Library Loan) from other Libraries
Library a la Carte is available at differing locations on campus for your convenience.
BONUS - Snacks are provided!
Research Paper Tips
Select your topic.
Do your research.
Develop a thesis statement.
Start with a plan.
Determine which information supports your thesis statement.
Write paper.
Read paper critically to ensure support of thesis.
Make corrections, deletions, and additions as needed.
Edit paper for correct grammar and readability.
Check references for format.